Hot Mama
55 South Main Street #165
Naperville, IL 60540
(630) 995-3530
Last week, on a particularly gorgeous beginning-of-fall day, I had the great pleasure of meeting with Lauren Rosen, the manager of the wonderful Hot Mama in Naperville. Though everyone on staff was busy putting the store back into working order after a busy city-wide ladies' weekend, they greeted me warmly and kindly. Lauren suggested we take it to Starbucks so that the team could get busy!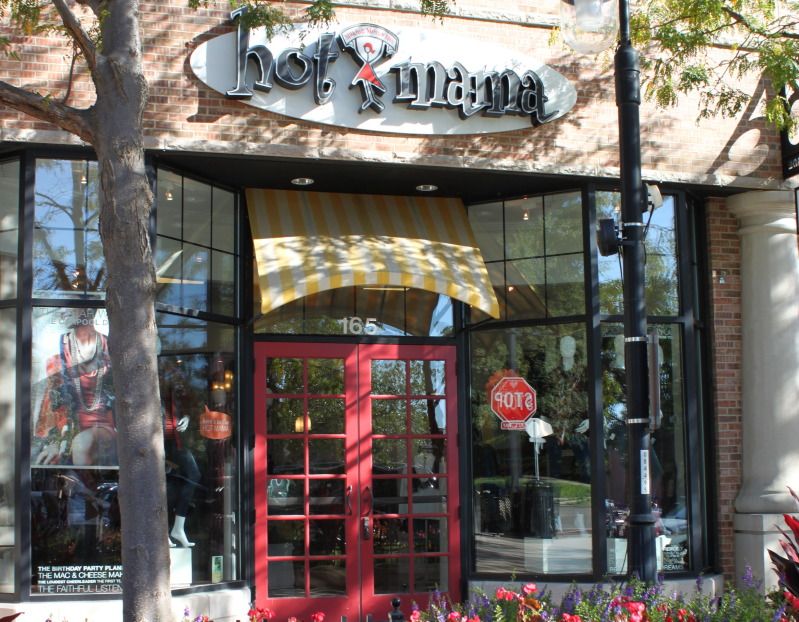 On the walk over, Lauren asked me all about my blog and life, fully anticipating that the conversation would lean toward her direction soon. By the time we arrived at Starbucks, I felt that I was not with an acquaintance, but a friend!
After getting settled, Lauren told me some of the basics about Hot Mama. The company was born in 2004 in Minnesota. Owners Megan and Mike Tamte were looking to create a place for moms to shop. Having had a child of their own, Megan realized that shopping after a baby is hard for many reasons. First, the baby is in tow! And s/he gets bored! Secondly, a body after a baby is not always the same, and shopping can be an emotionally challenging experience. They set out to creating an environment for women to have a positive shopping
experienc
e. "
All the women who work at Hot Mama are passionate about helping women look and feel hot," explains Lauren. Empowering messages to women are scattered about the store, on the mirrors in the fitting rooms, and on the display shelves.
Empowering women is definitely a central focus at Hot Mama. Lauren became expressive and emotive when discussing the mission of the store and its employees. "
One of our core values is that we try to create a positive feel-good environment," she enthused. "It's a place of women encouraging other women." Paired with their positive disposition is a selection of truly wonderful clothes. You'll see familiar names like Michael Stars and Autumn Cashmere interspersed with smaller boutique brands. Quality and individuality oozes from their selection, offering women fantastic "statement pieces" to take home.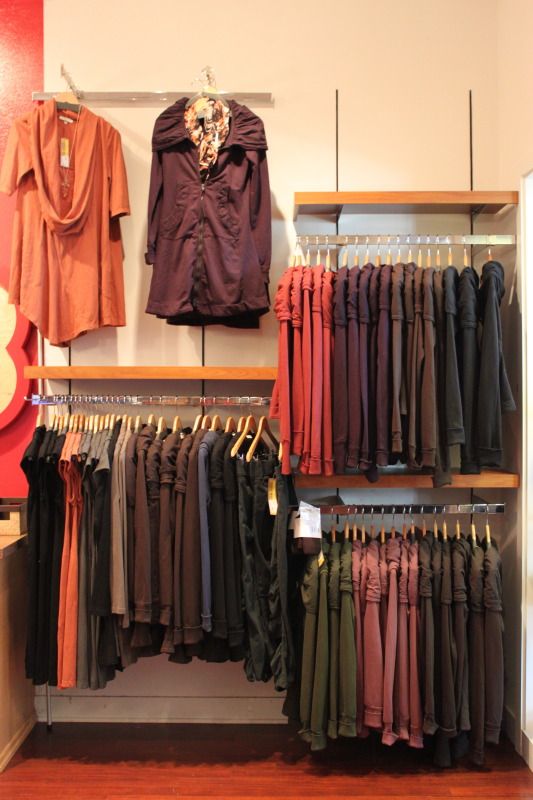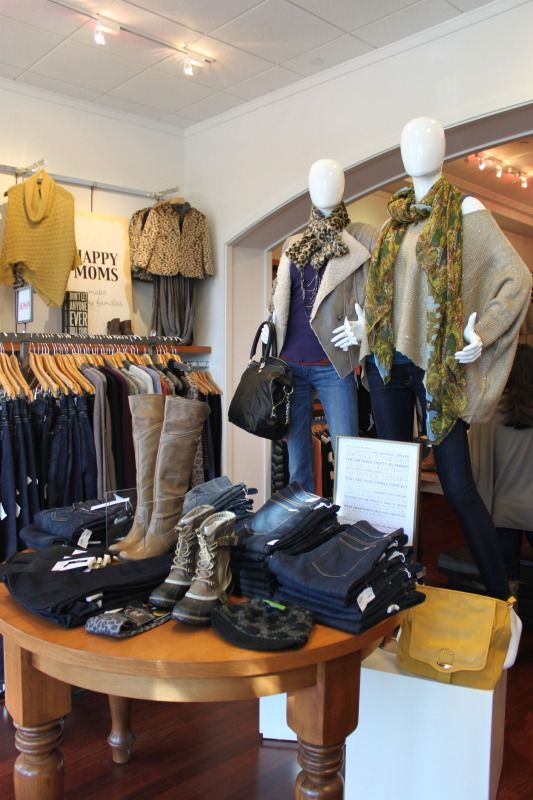 One of Hot Mama's hidden talents is their expertise in fitting jeans. Actually, the whole jeans thing is a nailed-down science! Lauren explained proudly that when a woman walks into the store, she and her team are immediately able to guess which jeans would fit the best, and they're usually right. They start a customer with three pairs of jeans they think would offer the best fit and go from there. They'll be honest, but kind.
Lauren empathizes: "Women sometimes compare jeans shopping to swimsuit shopping. That's a place that's really vulnerable for women." It is the combination of Hot Mama's expertise and humanity make shopping an empowering experience.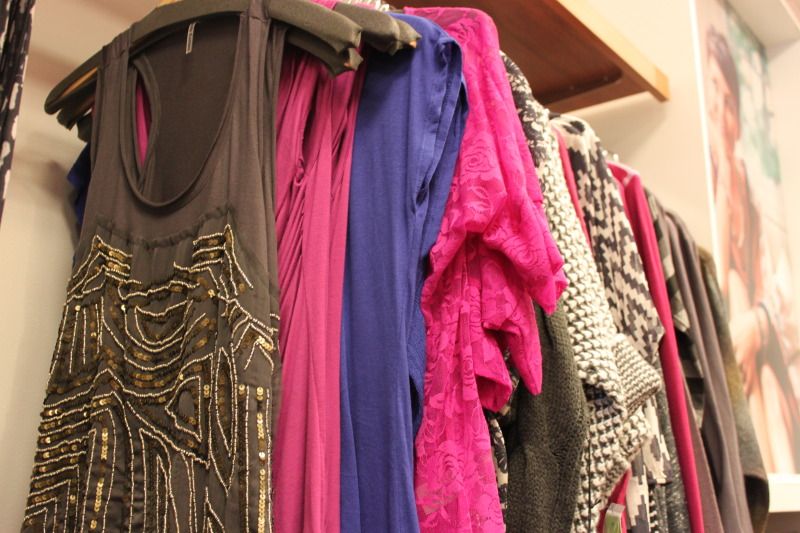 Lauren has even noticed a change in her own style since beginning at Hot Mama.
-->
"I feel like my personal style has evolved in that I'm so much more an accessories person than I ever was before.
You can have a simple outfit, but if you have the right accessories, you can transform the entire look," she explains. It's just the perfect thing that Hot Mama has wide selection of cute and affordable jewelry and accessories.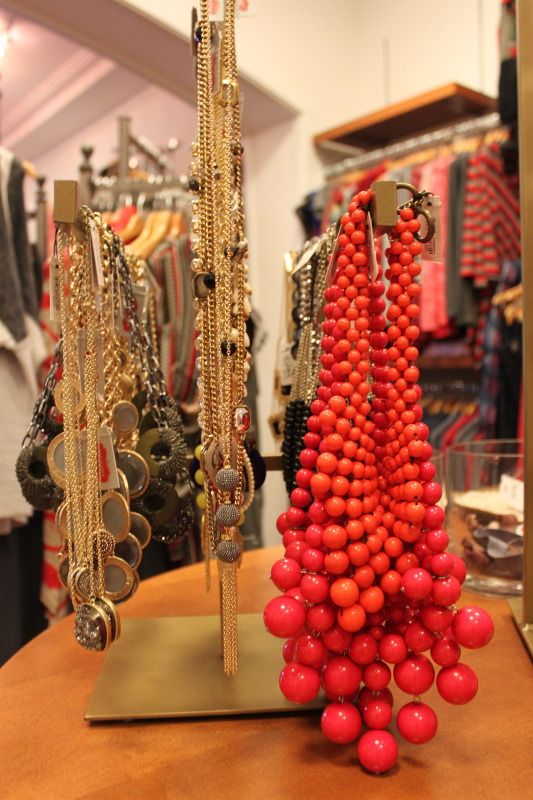 "Anything else you want the customers to know?" I asked her as we were taking our last sips of coffee and finishing up. "We are not a maternity store!!!!!!" she answered back without pause, with a great laugh. Though Hot Mama has plenty of things that a woman could wear in and out of pregnancy, their clothing is not specifically maternity. Clearly, this means that non-moms are also right at home in Hot Mama. When it comes down to it, Hot Mama has great pieces and a selection as wide as there are personal styles. It is absolutely, most definitely, worth a trip to visit.

Bonus Perks:
#1: Animal crackers for kids.
#2: Beer for dads/husbands/boyfriends.
#3: Computer area for all of the above.
#4: Toys for all of the above.

P.S. For extra fun at Hot Mama, schedule a private shopping party -- everyone in attendance gets 15% off!