Today, I am excited to share with you my wardrobe checklist! I've been working on fine tuning it for a little while now, and I think I've got it down. Many people ask what they need to have in their closet to get by. I made this checklist so that you can assess your current wardrobe or hit the stores with a clear focus in mind. Think of it more as a canvas for you to add your signature touches to. If you have these pieces in your wardrobe, anything that you buy will fit right on in. These pieces are all very versatile and can be mixed and matched. Here it is!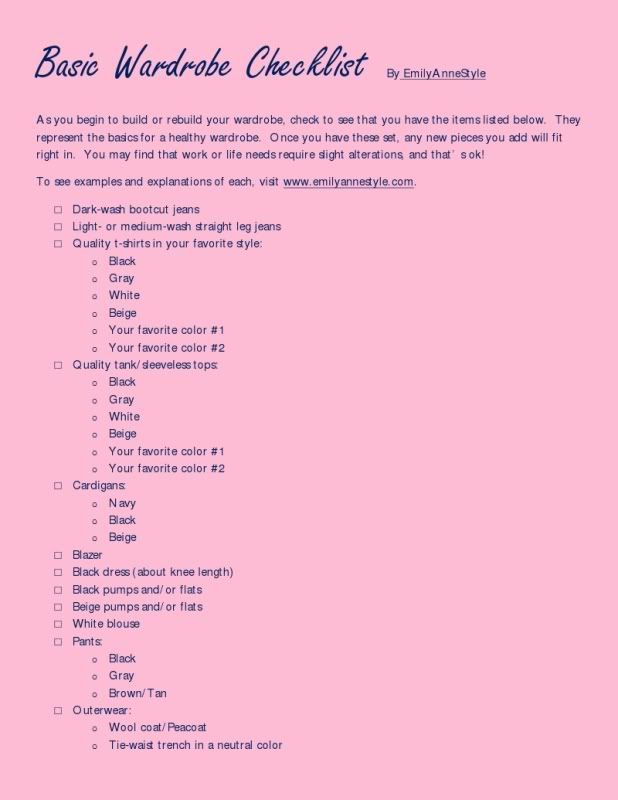 The dark wash jeans are a great medium between formal and casual. They bring a bit of polish to an everyday outfit, but they're still jeans. Just make sure they stay crisp. Once they fade or tear at the hems, they need to go!
The straight leg jeans are incredibly versatile. For a relaxed look, cuff the bottoms to about 4 inches. Just fold them over once. Since the leg is slim, you can also tuck them into boots during the cooler months. Here is my favorite way to wear mine:
The t-shirts and tanks are integral. These are really going to be pulling a lot of weight for your wardrobe. Since you'll be wearing them frequently, be sure to go for quality. While Forever21 is great for trendy pieces and cheap jewelry, go to J.Crew, Gap, or Loft for these. They're built to last.
See how one of my favorite bloggers wears hers here.
A black dress, as you may have heard, is probably the single most versatile piece of clothing that a woman should own. It works the hardest of all, being completely appropriate for a multitude of situations. Any is fine, but make sure it's knee length or a bit longer. I prefer mine to be sleeveless so I can wear it with a cardigan without being bulky. The more streamlined and simple the pattern and silhouette, the more versatile.