Handle With Care
1706 North Wells Street
Chicago, IL 60614
(312) 751-2929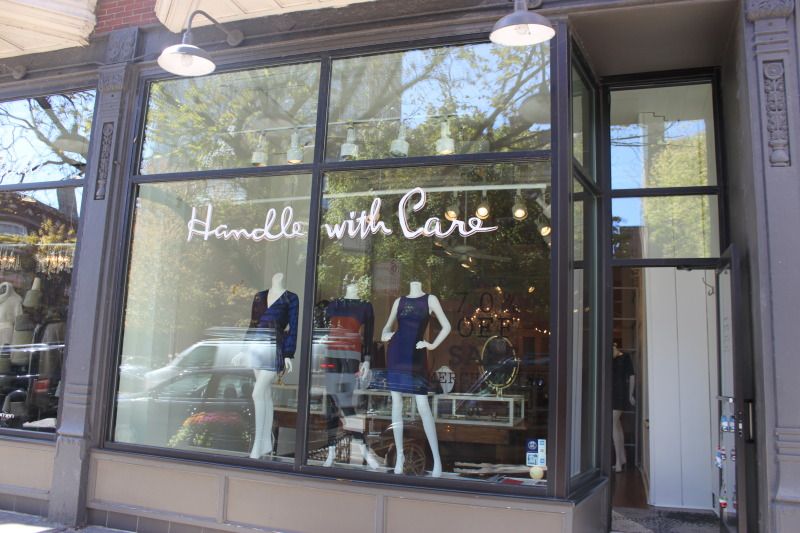 Earlier this month, EmilyAnneStyle went urban. I took the train downtown to meet with Alexis Vallortigara, manager of Handle With Care. After having visited there, I was drawn to it. Not only is it in one of my favorite parts of the city, Old Town, but it's just so well put-together and chock-full of the most amazing designers.

When I sat down to talk to Alexis, it became clear to me that she's passionate about what she does. The proof is in the pudding -- the store is doing great. "I love merchandising. I redo the racks once a week to switch up the color stories," says Alexis. Each rack is like its own mini-store. Alexis has everything lined up so that you can mix and match the pieces to make several different outfits. Genius for the quick shopper.


After an impromptu lesson on visual merchandising, Alexis told me about the roots of the store. Amazingly, Handle With Care has been around for 35 years. The current owner, Brinton Coxe, has had it under her wing for four years. Since the store has been in several owners' hands, no one really knows where the name comes from. All they know is that they're coming back to shop. Alexis explains, "People like coming here because they see our faces, they know who we are." On the weekends you can expect to see a fun crowd, upbeat music, and maybe even a glass of wine. During the week, shop along to rock 'n roll and the aroma of autumn themed candles.



Most people enter a boutique expecting to see big price tags. While it's true that HWC carries some big names like Rebecca Taylor, Tibi, Shoshanna, and Paige, they've dedicated an entire half of the store for shopping at an affordable price-point. You'll see dresses for $60 or earrings for $20.


The next time you find yourself in Chicago, Handle With Care is a must-visit. You'll be impressed with the clothes, smitten with the staff, and eager to find something for yourself from this treasure trove.