Twist
206 S Washington Street
Naperville, IL 60540
630/548.4445
On the busy corner of Washington and Jefferson in Naperville, IL, Twist offers a spacious respite from the busy world around it.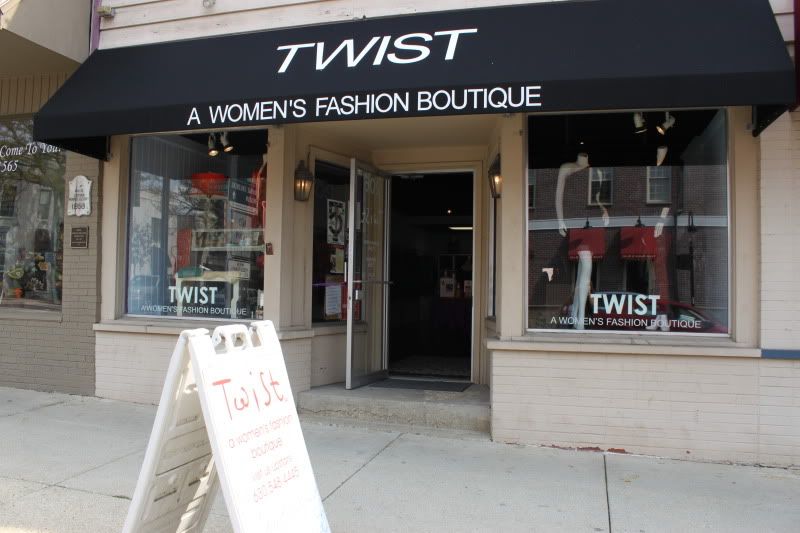 Owner, Kelly Kirch, and manager, Pam, were kind enough to share a glimpse into their world for you, dear readers. Twist opened in October, 2006. Originally in an upstairs location, Twist now has a front-and-central location in downtown Naperville.
Kelly explains that she opened Twist because she "wanted to bring trendy, fashionable, classic pieces that you may find in Chicago or New York to Naperville." Inside, the store definitely has an air of city life. Space is used sparingly and deliberately, with an overall polished effect.
One of my favorite features of the store is the way that the clothes are arranged by color. It has a wonderfully organized look that recalls the chic presentation of an Anthropologie, but on a lovely and shoppable smaller scale.
Throughout the store, mannequins are dressed in outfits that are practical AND chic. Styles at Twist bridge the gap between trendy and classic. "I think there is something to be said for great fabrics and the quality of an item. It's not just an outfit or shirt you are buying, you are buying something that you want to be excited to wear and that makes you feel great!" says Kelly. The unique styles at Twist are definitely something to feel excited about!
Pam, manager, began as a frequent shopper. After spending enough time in the store, she became a part of it. Bringing in her own furniture and antique pieces for displays, she embraces the store as her own. She enjoys "bringing in my iPod and playing my own music" while she simultaneously acts as the jeans fit expert.
Carrying over five popular brands of jeans, Pam and Kelly make sure that they know each fit well enough that when a person walks into the store, they'll immediately know which jeans would work the best. To Pam, the fit is foremost: "[Twist] offers personal stylist service that you might not get at a big box store." She also understands that feeling good in what you wear is extremely important: "What I choose to wear determines how I'm going to carry myself throughout the day."
Two great items that customers should know about?
#1: Mustard Jeans. Among their wonderful jeans are the trendy mustard ones set apart on a center table. "Mustard gold is one of the biggest colors for the fall," says Pam. No doubt that if you're at all weary about trying a trend, these ladies can help you accommodate it into your wardrobe!
#2: Fleece-lined leggings! Says owner, Kelly, "Our Vfish cozy fleece-lined leggins have been going strong for over two years now!! They are a classic legging that everyone keeps coming back for." Twist carries them in all the standard neutrals: black, grey, navy, brown.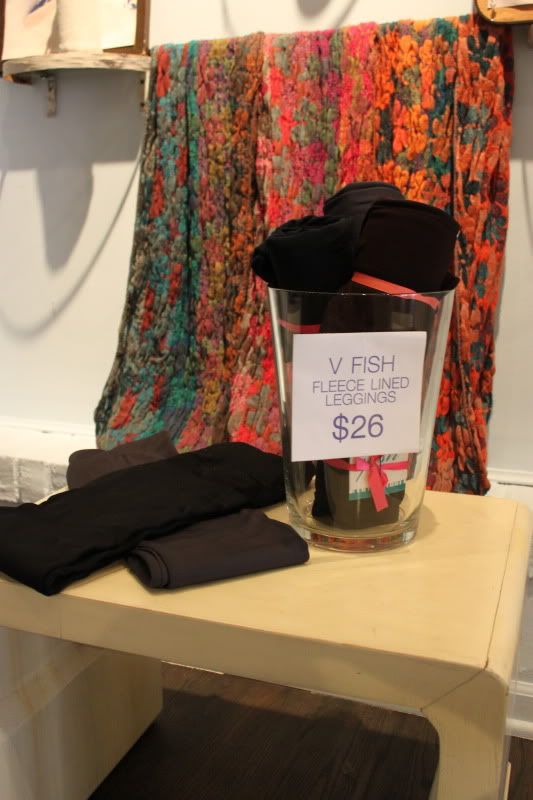 Kelly leaves you with this note: "We are a small, independent, charming boutique that has something for everyone." For this blogger, I've found that to be true. Whether it be a whole new outfit, a scarf, jewelry, a candle, or body products, there is certainly something for every customer at Twist.