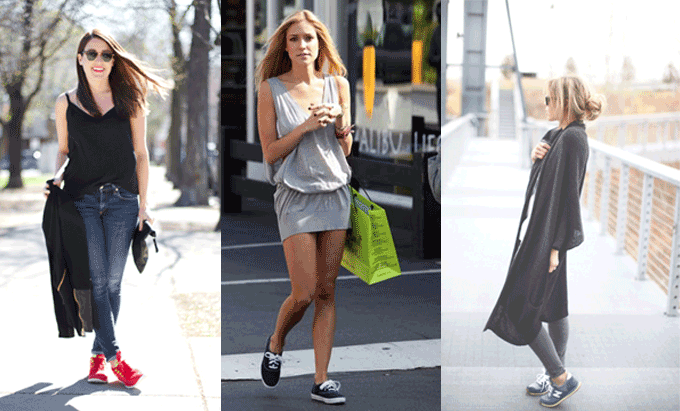 From left: Blogger Liz Schneider pairs Nike Free's with jeans. Kristin Cavallari dons a casual dress and canvas kicks. A simple day look gets even more comfy with New Balance sneaks worn by Mary Seng of happilygrey.com.
Get yourself comfortable, because the next big footwear trend just happens to be sneakers. Which means that after seasons of torture, your feet will finally get a rest. But it also means that it's easier than ever before to be laid-back fashionable. Celebs and style bloggers alike have taken to the trend, which gives "casual-chic" a fresh new meaning.
To style this look, it's important to keep the overall vibe dressed down. Sneakers look best with a skinny jean (preferably cuffed at the ankle) and classic, simple pieces. As with any statement accessory, let the sneaks take the spotlight. Miranda Kerr, below, pulls off bright pink sneakers with a basic denim shirt and leather jeans.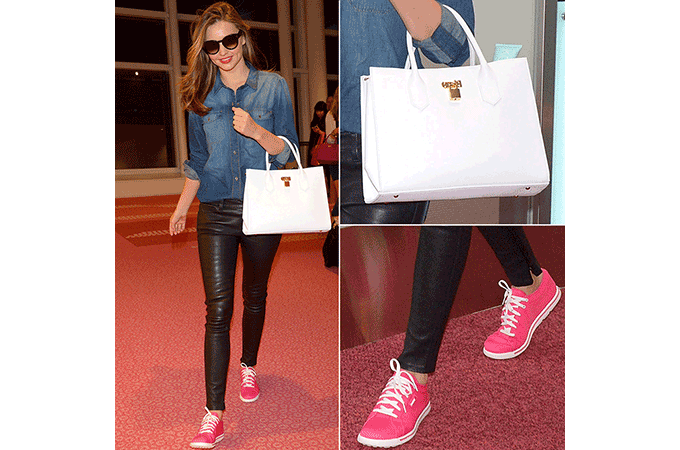 Blogger Liz Schneider of
Sequins & Stripes
(feature photo, left) makes her red Nike Free 5.0s nearly date-night appropriate with a simple-but-sexy black tank and retro sunnies. If you're feeling especially daring, pair sneakers with a simple dress for a fun spin on the trend, like Kristin Cavallari does (center) with a gray mini dress and navy canvas kicks. Or sweeten an effortless weekend outfit with a pair of vintage-inspired running shoes.
While assembling your outfit, remember this isn't an excuse to pull out your old lawn-mowing shoes. Make sure your sneakers are clean and fresh, and not too clunky. While the more high-tech athletic shoes offer great support, ditch those in favor of a flatter-soled, more streamlined style. Converse, Superga and New Balance are all great options, and women's designers are churning out fashionable options with a wide range of price tags.
This post was originally published on
Red Typewriter.
See it
here
.