tee: Loft || skirt: Gap || shoes: Bellini || necklace: handmade from Africa!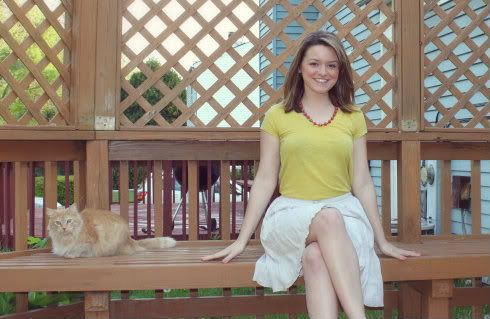 Evidence that an outfit can shift your whole day: When I woke up this morning, all I wanted to do was get back into bed. If I were to drag myself from my cozy sheets, I would only do it if I could wear sweatpants and a baggy hoodie all day. "No way am I trying today. Well, maybe I'll just put on this skirt. And I like how this green/yellow t-shirt goes with it.... oh, and it needs a pop of red! Or two, even! And sparkly earrings! Ok, I'm having a great day!" After giving myself a minute or two to ho-hum, I had fun getting dressed and felt ready for my day! It even happened (and this is extreeeeemely rare) that I had time to sit out on my deck and sip coffee. So, there ya go. Proof that a good outfit can change your mood and change your whole day. :)
A couple bonus pics from this morning...
Anya. She's cute.